Photography and filmstrip composite by Barbara Laughon
And somewhere in Rochester,
Don Mancuso is shaking his head
So, does it seem like a thousand years since I've been here or is it just me? So much has happened to the world, our guys, you and me it's almost insane to think I could ever catch-up. But, y'all know me. I'm always willing to try!

Paul and I got to see the Lou Gramm Band last Aug. 11th in Las Vegas. All the nay-sayers and the new Foreigner line-up recruits can argue with me all they like (and they have), but NOTHING makes my feet dance and my heart soar like a Lou Gramm concert. Nothing! I have no qualms with Mick Jones or anyone in the line-up fray that seems to have divided the F-Troop fans into various camps. I just love Lou, period. Understand that and you'll understand me.

OK, back to Vegas. Online reviews going into this show weren't always kind. One in particular stood out to me as it seemed like the reviewer was on the young-side and had little to no knowledge of Foreigner or Lou. I took particular offense at the tone of the review. It was mean-spirited and immature at best, like the author was trying to prove to the editor that they were worthy of the "critic" job. It ate at me all the way across the desert. Paul knew it, so he did his best to distract my attention throughout the five and half hour drive.

We had decided to head over early for some R&R, so we arrive at the Silverton Casino on Friday, Aug. 10th. We got to spend some R&R time with Don Mancuso that evening, which was really nice. After all these years of exchanging emails, I finally feel like I may know a little bit about the man behind the magical Black Sheep and D:Drive guitar solos.

The concert itself was excellent. Lou missed two notes – two, that's all – and I should know because I ended up at the foot of the stage, smack in front of a speaker. Not only could I clearly hear his amplified voice, but I could also hear his natural voice. As usual, I cried during the intro to Midnight Blue. An old classmate from high school emailed in and asked why. I wish knew, but I just don't. It obviously touches the most protected recesses of my heart.

The LGB, itself, was rockin'. Richard Grammatico was fabulous. Andy Knoll seemed to smile more than at our previous show and had better interaction with the crowd. Again, I could barely see Ben Grammatico, but I could certainly hear him and he did not disappoint. And, of course, Don made me smile with his perfect weave of aural magic and stage presence.

Again, we were graciously granted access the band post-show. Paul and I do our best not to intrude upon any of them. Instead, we wait and gauge moods. Most of the time, I know when it's time to go. Lou looked tired, and after a quick survey of the room (that included a very brief chat with us), he departed. Don brought me a glass of wine and Paul a beer. We chatted for a few minutes, exchanged some one liners with Andy (who, God bless him, did not remember us, but then why would he?) and then after many thank-yous, we headed out for dinner. The Silverton is a small place, so we ran into Don later on the casino floor and ended the evening with fond farewells outside our room.

All in all, another great memory that will keep me warm in my old age. Thanks, guys. I always say you'll never know what it means me, but then again, maybe you do.

In other Black Sheep-related happenings:

Lou Gramm signed with Spectra Records this summer and fans are anxiously awaiting the release of the long-discussed Christian album. I've been assured that I will absolutely love a song called Baptism by Fire. They say it is right up my alley. I believe I was told this song was penned by Andy Knoll, but my memory seems a bit fuzzy on the specifics so don't quote me. There are plans for 2008 bookings, but at this point that is all I know. Oh, and as part of the Spectra influence, Lou's MySpace pages have undergone a revamp and there may be something similar on the horizon for his official site.

Bruce Turgon continues to get a lot of positive press from Melodic Rock.com regarding his upcoming project, Places of Power, with Philip Bardowell. I'm not sure a release date has been announced at this point, but for sure the best source for news on this is MelodicRock.com.

D:Drive, the collaborative effort featuring Phil Naro and Don Mancuso, has signed with Chavis Records, for the band's latest release Straight Up The Middle. Chavis is best known as the label that in 2006 signed Quiet Riot for the release of Rehab. (Rest in peace, Kevin DuBrow!) For more information on how to order SUTM or delve more into the world of Chavis, click here.


Truly a one-man marketing machine, Don spent hours getting the word out about the album and the corresponding gigs in the Northeast. (I was asked to pen his website biography — and for that, I am truly honored. Thank you, Don and Anne!) Now, he tells me that if all goes well, we'll be seeing a video from SUTM. I'll let you know when I know. I promise.


In his "spare" time, Don also managed to squeeze in some time with his former bandmates from Cheater. To keep up with Don, visit his MySpace pages or his official website.

As for Ron Rocco, his 9Lives website reports a new regular line-up and promises a 2008 news update real soon.

And that, I believe, is a wrap. I'd promise to do a better job keeping up in 2008, but Mule Days is looming. So, you know where I'll be – designing print ads, writing TV and radio copy, organizing a special kids event (shh, it's a secret for now) and, of course, praying that gas prices hit a plateau. Life can be tough in a community that relies heavily on tourism. So even if you can't take that once-in-a-lifetime vacation to Tuscany or Australia, please consider exploring the communities within driving distance of you. Trust me. People like Paul and I will thank you for it.

Take care!

(1/28/2008)
---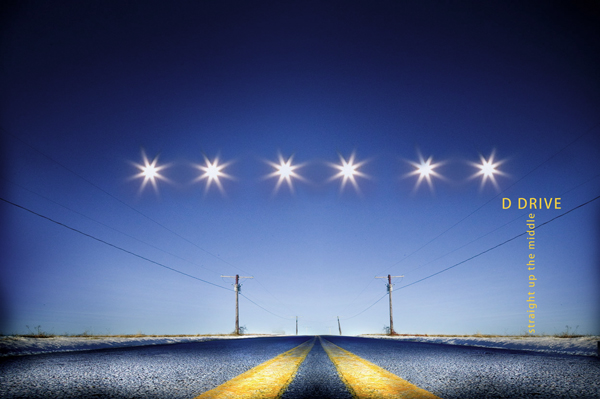 Cover art courtesy Don Mancuso
STRAIGHT UP THE MIDDLE ON ITS WAY
Straight from the Don Mancuso's computer keyboard: "As all of you know, the new DDrive CD is pretty much there! It's at the pressing plant and we're just waiting for them to finish the manufacturing … (Straight Up The Middle) will be sold at a couple of local stores in Rochester, but most will be sold through CDBaby.

"On that note I've been asked by a few people about pre-ordering and (CDBaby) can't set that up right now, but asked me to see how many of you are definitely planning to order them and how many. That way I can have the appropriate amount shipped there and they won't be on backorder after the ones they have are gone. … That would be a HUGE help! Thanks!" Those wishing to take Don up on this version of "pre-ordering" may contact him via his official website.

Don also notes to keep an eye on his website as there will be a Flash animation featuring the CD's cover art and a snippet from one of the songs. (Credit for the animation goes to Rik Pardun, thank you very much!) Oh, and for you lucky New Yorkers, Don is "99 percent sure" that the first DDrive show held in conjunction with the new release will be in Buffalo on May 5. Watch his sites for confirmed updates.

(4/2/2007)
---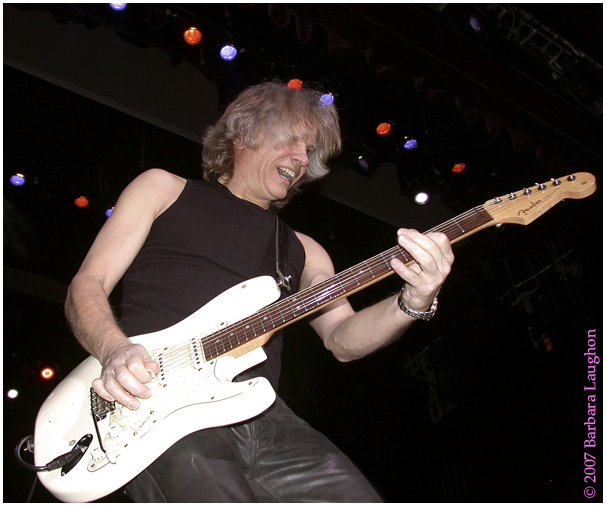 Don Mancuso, Dec. 31st, 2006, Eldorado Casino, Reno Nevada. © 2007 Barbara Ferrey-Laughon.
NEW MANCUSO CD NEARS COMPLETION,
LOU GRAMM BAND GEARS UP FOR '07, TURGON UNVEILS PLACES OF POWER
From vocalist Phil Naro comes this update on the pending D:Drive release, Straight up the Middle: "Our resident rockers in Rochester are getting ready to unveil the follow up to the critically acclaimed D:Drive record. Gifted guitarist Don Mancuso who has been the touring axman for former Foreigner vocalist Lou Gramm is fine tuning the tracks for his new disc Straight Up the Middle.

"The new record will once again feature (Phil Naro) on lead vocals as well as Lou Gramm and Regi Hendrix chiming in on backing vocals.

"The new album should be street ready for a spring/summer release as the band is traveling to Toronto to work with producer Steve Major.

"One last liner note, the radiant song You're Never Alone from the D:Drive album has been making waves with the International Songwriting Competition. The inspirational song which features Lou Gramm on vocals is up for consideration for Song of the Year for 2006, winners will be announced in March. If you don't have your copy of this straight ahead Rock and Roll record yet, go to www.donmancuso.com to order. Stay tuned for info, interviews, and local clubs dates."

Thanks Phil, as always, for the update.

In other news, the Lou Gramm Band is prepping for another year of touring. If you haven't seen it already, check out Lou's official site for recently added dates, a new promotional photo and an overall new look for the website. (Wonder if they can hear my foot tapping impatiently while I wait for West Coast dates? Oh well, I'm thrilled they finally have a new promo photo so I can't whimper too much!)

Speaking of website revamps and The LGB, don't forget to check out the spruced up LGBNation.com. The webmaster has masterfully meshed together quite a bit of information and links and coupled it with some great photography. Definitely worth a look for fans of the any of the LGB members.

OK, and on the Bruce Turgon news front, this tid bit from the official website of BT's new collaborator, Philip Bardowell: "Frontiers Records is happy to introduce one of the most exciting new signings ever! Places of Power is a new monicker behind which two familiar faces are hiding the beginning of their newest collaboration.

"Bruce Turgon (ex Foreigner, Shadow King, Lou Gramm, Atomic Playboys) and Philip Bardowell (ex Unruly Child, Magdalen) have started working together on a blistering set of new songs and have christened this new partnership as Places of Power: a name which, according to Turgon, 'is very strong and meaningful to this project.'

"Philip and I have a great working relationship and we have both a personal and shared inner vision,' comments Turgon about this new venture, adding 'we've spoken a lot about the kind of record we wanted to make and we found out we were exactly on the same page musically.'

"The fans can expect a magnificent melodic hard rock release, set to blend the best elements of Turgon's songwriting and musicianship together with the acclaimed powerful vocals from Bardowell, in order to create a real musical milestone akin to the best Foreigner and Shadow King albums. Something to get very excited about and that is planned to be released at the end of the summer '07.

"Both Bardowell and Turgon are Frontiers Records recording artists. Bardowell released his album In The Cut is September 2005 while Turgon debuted as a solo artist with Outside Looking In in the November of the same year. Both albums gathered rave reviews from the press."

And finally, on a personal note, I'd like to thank everyone who have sent e-mails regarding some of this site's housekeeping efforts. Your kind words are appreciated. I still have a ways to go, especially with the gallery and some stray links, but I'm getting there. Well, as much as my work, volunteer and home schedule allows.

Related links: Official Lou Gramm Website
Lou Gramm's MySpace site
Official Don Mancuso Website
Don Mancuso's MySpace site
Don Mancuso's Second MySpace site
PhilNaro.com
LGB Nation
PhilipBardowell.com


(2/9/2007)
---
Lou Gramm, Dec. 31st, 2006, Eldorado Casino, Reno Nevada. © 2007 Barbara Ferrey-Laughon.
CELEBRATING THE NEW YEAR WITH THE LGB
Happy 2007 everyone! I hope you all had a safe and happy celebration no matter where you were.

Ringing in the New Year with the Brothers Gramm(atico) and Mssrs. Mancuso and Knoll was magical for me, and certainly something I never thought I'd get to do. The venue was a nice old showroom deep in the heart of the El Dorado Casino in downtown Reno, Nevada. Paul and I saw both the Saturday night show and the New Year's Eve show, and we were lucky enough to have front row seats that placed us squarely between Lou and Don (and later Richard).

While the first show was solid, there were some sound problems for the folks in the front. We later learned that casino management failed to switch on a set of speakers that ran across the base of the stage. This simple action made all the difference in the world the second night, allowing Lou's voice to come through clearly.

The set list was a pleasant surprise for me, as I had not seen the LGB since the line-up featured Rocket Richotte, Kevin Neal, Gary Corbett and Bruce Turgon. I thrilled to my favorite Foreigner song, Dirty White Boy; nearly beat Paul's arm to a pulp when they did Rev on The Red Line; and, just fell apart when Midnight Blue came around.

The crowd pleaser both nights was Juke Box Hero. The audiences both nights really reacted to that, which of course was the "official" end before the encore. The New Year's Eve performance of JBH, earned Lou and the band a standing ovation. Overall, I felt Lou's voice had improved since I last saw him. That said, I should note that I have no problem with his matured voice. To me, it's better. I know some of you don't neccessarily share that opinion, but that's OK. I love Lou Gramm just the way he is and I appreciate that he continues to offer people like me that chance to relive the magic he has always delivered.

I am very impressed with the Brothers Gramm(atico). Before going to this show, I have to admit I was very ignorant about the talents of Ben and Richard, and really only knew what I had read at various websites. Ben and Richard blew me away. Richard's playing, especially on guitar, has a very soulful quality – almost as if he's channeling a gift from on high. Ben's drumming is rich. He does not have to cover mistakes or fill in bumps with any flashy techniques. He is secure in his performance and it is a treat for the audience.

And then there's Don. For years, I have wanted to see Don Mancuso play. I have the Black Sheep albums. I have Don's CDs. I've seen the Black Sheep Reunion videos. So I had a vague notion of what I thought I was going to see. Don surpassed any notions my addled brain had dreamed up. He is a powerful guitarist who takes the heart of every chord to the fullest. His talents are simply amazing and I will always remember the way he is able to gracefully command the stage when called upon, but he knew when it was time to step back and let his bandmates shine as well. Don, like Bruce Turgon, is a definite showman who guarantees a good time for those of us who enjoy the full energy that emanates from the stage.

Andy Knoll's stage presence reminds me somewhat of the late John Purdell, everything from the "take-no-prisoners" stance to the swaying with the music. Andy's performances were solid, and as a frustrated keyboardist myself, I really enjoyed watching him. His free-spirited side comes through his music, and you know, for me, it's those personal glimpses into what the music means to these men that makes the performances memorable.

Paul and I did get to speak with the band members after the shows both nights, and I did get to say this next statement to Lou, Ben and Don, and I know I'm going out here on a limb with some of you, but, again, in my humble opinion, this line-up of the LGB is the best I've seen. Initially, that was hard for me to say. Most of you know I love Bruce Turgon and everything he brought to the table in both Foreigner and the LGB, but what I'm seeing with this line-up is a marked difference. They're tight. They sincerely seem to enjoy each other and, above all, there's a happiness – a general good-spirited essence in the group. No one is there to show up any one else. No one is seeking more glory or fame. There is no conflict. There's just a pure joy that you can feel in the air as long as you take no preconceived notions with you.

Lou summed it up best when I told him I sensed a real happiness with this line-up. He broke into a big smile and said, "It makes all the difference in the world when you're playing with your brothers."

Thank you so much Lou, Ben, Richard, Dee and Andy. We had a spectacular time celebrating the New Year with you. God bless you all.

P.S. A special shoutout to the new friends we made at the shows. Hope to see you all at another LGB show again in the future.


Related links: Official Lou Gramm Website
Lou Gramm's MySpace site
Official Don Mancuso Website
Don Mancuso's MySpace site
AndyKnoll.com
LGB Nation


(1/8/2007)
---
PLAYING CATCH-UP
Yeah, I know. While I was off serving as president of two local organizations, I let this site lapse again. My apologies to all.

In that time Bruce Turgon's solo CD Outside Looking In was released. If you like the songs he and Lou Gramm produced during Lou's solo days and in their Shadow King days, then you'll love this release. It features These Tears Must Fall, a song Lou performed most nights with the previous version of the Lou Gramm Band. My personal favorites are Living A Lie, Any Other Time, Outside Looking In and Pleasure Dome.

Right about the same time, BT's webmaster, Danny Lindberg re-vamped his Bruce Turgon Fansite. He and BT graciously asked to use one of my concerts photos in the gallery section. What an honor … thanks, Bruce.

Meanwhile, Lou Gramm has had a busy year, touring the country with his leaner version of The Lou Gramm Band. The line-up consists of his brothers, Ben (drums) and Richard (bass), alongside Andy Knoll (keyboards) and former Black Sheep member Don Mancuso (guitar). For the longest time I've had to rely on the reviews of other fans when it came to the LGB. I'll finally get to see them this New Year's Eve in Reno, Nevada. I am really looking forward to it as I've always wanted to see Don play. I've seen Lou and Bruce perform together and now I'll get to see Lou and Don perform together. It's as close to a Black Sheep reunion as I'll ever get!

OK, back on point. Three new Lou-related websites have been launched. First there's the official site, LouGramm.com, a very sharp-looking site featuring news, tour dates, merchandise, contact info and the like. It doesn't seem to be updated very often, which is a bit disappointing. I was hoping we'd see something about the status of the proposed Christian album at this site, but nothing so far. Then there's the site over at MySpace.com, click here to view. It seems to draw a lot of the hardcore fans I've met at the various Foreigner websites, but it also seems to capture the interest of many casual fans who may not otherwise seek out information on Lou. Finally, there's The LGB Nation website. I'm not sure who is handling this site, but it's a fun little site, especially if you're interested in concert photos of the Lou Gramm Band. If Lou and the boys are having half as much fun on the road as these photos portray, well then, it looks as if Lou has finally reached that little slice of heaven we all seek in our careers.

Related links: Bruce Turgon Fansite
Lou Gramm Official Website
Lou Gramm's MySpace site
LGB Nation


(10/25/2006)
---
TURGON CD TARGETS FALL RELEASE
Bruce Turgon's upcoming solo CD Outside Looking In is reportedly on track for a November or December release. Nothing more solid is coming from Turgon's camp at this point. Again, for the latest news on this topic, it's best to check Melanie Whitefoot's Inside Information: The Foreigner Files website.

And hey, BT, if you should ever lurk here, know this: We've missed seeing you the last couple of summers. Here's wishing you well with this venture, and hoping you may do a few club dates. Yeah, I know, but a girl can dream can't she?

Related links: Inside Information: The Foreigner Files


(8/31/2005)
---
BLACK SHEEP VID CLIPS AVAILABLE
Don Mancuso has re-vamped his website and is now offering fans the ability to see some vintage 8mm film clips of Black Sheep from 1973, plus clips from the 2003 Black Sheep Reunion.

There is a membership fee of $14.95, payable by credit card or online check through CCBill.com, in order to access the clips. Potential buyers should note the fee does not cover all available clips or MP3s. Rather, you make a selection from the projects Mancuso has been involved in. Black Sheep will cost you $14.95 for five days access. Cheater will cost you $14.95 for five days access. Johnny Smoke will cost you $14.95 for five days access, and so on. Not each category features video clips -- some are just audio clips -- so be sure and review before you make your purchase.

The 8mm clips are what you can expect from 1973 film -- no sound and aged -- but still, for this Sheep fan who was 9 in 1973, it's a fun experience. The 2003 reunion clips aren't bad overall. The quality of the video is a bit low, but again for those of us unable to travel across country for that once-in-a-lifetime benefit, it works.

(8/31/2005)
---
TIME FLIES WHEN I'M NOT LOOKING
First things first. Please accept my apologies for not keeping up on top of things a bit better. What can I say except reality tends to get in my way, and as much as I love Lou, Bruce, Don and the rest of the boys in the band -- and God knows I do -- sometimes other things come first. So again, I apologize.

Now, that said, let's get down to business. While I was away, some major developments occurred for nearly all the Black Sheep guys. Here's a synopsis of things Sheep fans can either look forward to or catch up on.

Lou Gramm teamed up with his brothers, Ben (drums) and Richard Grammatico (bass), plus Don Mancuso (guitar) and Andy Knoll (keyboardist) to re-structure the Lou Gramm Band. This line-up hit the road in 2004 and continued on in 2005, serving up a mix of Foreigner hits (only those which Gramm co-authored) plus some of Gramm's solo hits.

Gramm has said in interviews that his parents, Bennie and Nikki Grammatico, had always hoped their sons would one day have the opportunity to play together in a band. With the death of both parents in 2003, it would seem the Grammatico sons are doing their best to make their parents' wish come true.

And what of Gramm's ties to Foreigner? Well, I personally ascribe to the "never say never" club, but recent interviews from both Gramm and Foreigner leader Mick Jones indicate the working relationship is done. Jones has reconstructed Foreigner's line-up for 2005 (and apparently beyond) with Jason Bonham (drums), Jeff Pilson (bass) and Kelly Hansen (lead vocals) plus long-time Foreigner associates Jeff Jacobs (keyboards) and Thom Gimbel (saxaphone/rhythm guitar). This version of Foreigner will be touring through the Fall of 2005. Jones has made some comments on stage about this band hitting the recording studio in the near future. Stay tuned to The Official Foreigner Website for any additional details on that possibility.

Speaking of recording, Gramm has his eye on recording a Christian music CD. Sources close to the LGB report that the group has already penned some songs for the project, and that with any luck, the album may be out before Christmas 2005.

But what of former Black Sheep/Shadow King member and long-time Gramm associate Bruce Turgon? He reportedly wanted to take some time off from the road when the previous incarnation of The Lou Gramm Band ended its tour in 2003. Sources close to Turgon say his decision was based on his desire to spend more time with his daughter.

But never count Turgon out for long. He is preparing to release a solo CD, Outside Looking In. The upcoming release -- rumored to be available as early as November or December -- seems to be highly anticipated by fans and critics alike.

For those dying for a taste of what is to come, NEH Records of Colorado will be offering a import called "Frontiers Sampler-Rock The Bones, Vol. 3" which features Turgon track "Any Other Time." The site's latest "Coming Soon" update reports the CD has been delayed and does not list a rescheduled release date.

The NEH website describes the track as follows: "13. BRUCE TURGON - Any Other Time (Outside Looking In) : Bruce Turgon is a long-time companion of the famous Lou Gramm, playing and writing with him in BLACK SHEEP, SHADOW KING, FOREIGNER and on Gramm's two solo albums, "Long Hard Look" and "Ready Or Not". With "Outside Looking In" Bruce Turgon presents his first ever solo album showing impressively that as an artist he can definitely stand on his own two feet. The record features guest appearances by some of Melodic Rock's finest musicians as well as songwriting contributions by Bruce's old mate Lou Gramm."

The best bet for latest news on Outside Looking in is Melanie Whitefoot's Inside Information: The Foreigner Files site. Oh and by the way, photographer Alex Solca's website has a nice photograph of Turgon, which I suspect was shot for the new release.

Former Black Sheep guitarist and current Lou Gramm Band guitarist Don Mancuso released his solo CD, D:Drive in August 2004. The CD features former Black Sheep Lou Gramm, Larry Crozier, Richard Grammatico and of course, Mancuso. Other talents include vocalist Phil Naro, keyboardist Andy Knoll (Lou Gramm Band), bassist Dave Quick, drummer Joe Lana, pianist Brian Egglestein, drummer Joe Szembrot and vocalists Jeff Cosco, Jessica Hamilton and Jim Crean.

Says Mancuso: "I feel that this record is by far my best effort to date. It's not only well rounded by my experience with Celtic, Funk and Rock music, but it's very focused on a direction and a unique sound." The CD can be purchased through Mancuso's website.

Ron Rocco, who handled drums on Black Sheep's self-titled debut album has his own band, Ron Rocco's 9Lives, which is doing gigs in the greater Western New York region. There's a nice bio on Rocco at the site, plus a nice timeline on his career. Rocco is currently doing local session work and runs his own digital recording studio. He and 9Lives make regular appearances in Lockport, NY. For complete details, visit the 9Lives site.

And while he wasn't a member of Black Sheep, and he seems to have trouble remembering his stint in Shadow King with Gramm and Turgon, Def Leppard guitarist Vivian Campbell has launched an official website that will coincide with his new solo album. All the latest on this album -- 20 years in the making -- can be found at Vivian Campbell.com.

Oh, my Lord. I think I may be caught up.

Related links: Official Foreigner Website
Lou Gramm Band Website
Inside Information: The Foreigner Files
Official Don Mancuso Website
Ron Rocco's 9Lives


(8/7/2005)
---
MANCUSO CD UPDATE
It's been one busy summer for Don Mancuso and those who contributed to his upcoming CD, D:Drive. Foreigner frontman Lou Gramm is currently on a nationwide solo tour. Phil Naro, lead vocalist for Stranger: An Evening of Foreigner, has kept busy with his own gigs plus those that have him and Stranger opening for classic rockers like Eddie Money.

Then there is Mancuso. Not only has he been on the road with Linda Rutherford and Celtic Fire plus doing the Long Live Rock shows throughout the New York region, but now he and the newly re-christened koil are planning to release their debut CD. All the activity is wonderful but it left me wondering about the status of D:Drive so I asked for an update. The e-mail I received was upbeat and positive but cautious when it came to a release date.

"We've just gotten our first mix of Wait till the Sun Goes Down from (engineer/producer/co-writer) Steve Major in Toronto. (I'm) getting very excited after hearing that! We have a few more tracks to lay down before it's complete and (ready for) mixing/mastering," Mancuso wrote.

Mancuso said he expects the release to be delayed for a month or two. "People (have been) very busy touring, dealing with family stuff, vacations, etc. We're getting back into it now though," he wrote.

With the exception of three songs – one co-written by Gramm and two co-written by Major – all of the songs on the forthcoming CD are written and arranged by Mancuso and Naro. The core band consists of Mancuso, Naro, bassist Dave Quick and drummer Joe Lana. Contributing artists include Gramm, keyboardists Andy Knoll (of Stranger) and Scott Kreyer (of Toronto), keyboardist Larry Crozier (formerly of Black Sheep), drummer Joe Szembrot and vocalist Jeff Cosco (of koil).

Gramm lends his talents to four of the tracks on Mancuso's CD. Gramm handles lead vocals on Wait till the Sun Goes Down (Mancuso/Gramm), A Little Outside (Naro/Mancuso/Gramm) and You're Never Alone (Mancuso/Naro/Tony Gross/Gramm). He also contributes backing vocals to Lock Lips (Naro/Mancuso).

Mancuso promised he will keep us posted on the progress of D:Drive.

(9/8/2003)
---
STRANGER UNVEILS NEW WEB LOOK
Michael Staertow, guitarist for STRANGER: An evening of Foreigner, reports the Lou Gramm/Foreigner tribute band has a new website for your perusal. Stop by the new site for the latest on all things STRANGER including upcoming appearances and recent photos. Don't miss the recent newsclips from Time-Warner's RNews under the Media section. Michael and vocalist Phil Naro are interviewed for this feature.

Stranger "An Evening of Foreigner" is, from left to right in the photo above, vocalist Phil Naro, keyboardist Andy Knoll, guitarist Michael Staertow, drummer Rob Mount and bassist Eric Neu. Phil, Andy and Michael contributed to Don Mancuso's upcoming CD, D:Drive

STRANGER was among the bands featured at the 2002 ALL-STARS FOR BRIGHT EYES concert in Rochester, NY. The concert, organized by Lou Gramm and featuring the first-ever reunion of Black Sheep, benefitted the children's brain tumor clinic at Strong Memorial Hospital. STRANGER is the only officially endorsed Lou Gramm / Foreigner tribute anywhere!
–
---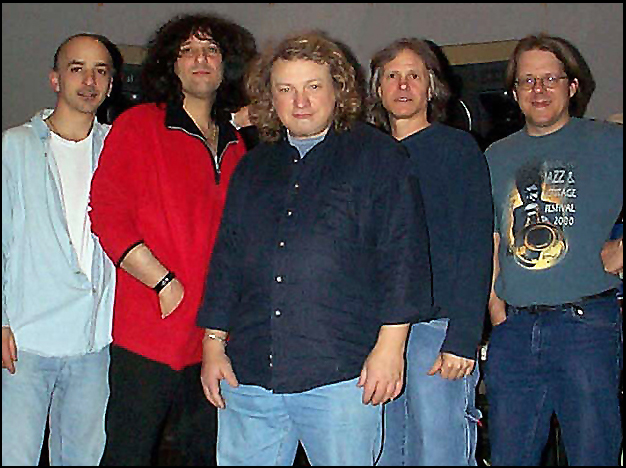 (L-R) Tony Gross, Phil Naro, Lou Gramm, Don Mancuso and Mark Gifford.
Photo by Jin Soo Jeon/courtesy Don Mancuso
MANCUSO CD TO FEATURE GRAMM, NARO
Vocalists Lou Gramm and Phil Naro are lending their talents to the next solo release by Don Mancuso. Tentatively titled D:Drive, the release will feature songs written by Naro and Mancuso plus two songs written and performed by Gramm and two songs written by producer Steve Major.

According to Mancuso, Gramm lends his talents to three tracks -- Wait Until the Sun Goes Down, A Little Outside and Lock Lips -- with a possible fourth in the works as of this writing. Gramm's involvement stems from he and Mancuso's longtime friendship and their desire to once again work together. To quote Mancuso, "(We) had wanted to do this for some time and decided it was now or never!"

The core band on this release features Mancuso, bassist Dave Quick and drummer Joe Lana. Additional musicians lending their talents include keyboardists Andy Knoll, Scott Kreyer and Larry Crozier, drummer Joe Szembrot and vocalist Jeff Cosco.

Crozier's participation with the release brings the involvement of former Black Sheep members to three. Mancuso said that while he would have loved to have made it four with the inclusion of Black Sheep bassist Bruce Turgon, that just wasn't possible as Turgon was busy at work lining up portions of Gramm's upcoming tour. Gramm will be joined by Turgon, keyboardist John Purdell, drummer Kevin Neal and guitarist Rocket Ritchotte for a nationwide solo tour this summer. For details, see Melanie Papcun Whitefoot's special section at Inside Information: The Foreigner Files website.

Mancuso is targeting a Fall release date for D:Drive.
---
LOU GRAMM 2003 SOLO TOUR
Foreigner lead singer Lou Gramm will be doing a series of solo shows during the Summer of 2003.

Foreigner bassist and long-time friend Bruce Turgon will join Lou. The rest of the band line-up will be announced at a later date. Sources close to Foreigner say the solo tour is not indicative of any problems within the band. Lou just wants to get out there and entertain.

For a complete list of tour dates and additional information, please visit Melanie Papcun Whitefoot's special subsection to her Inside Information: The Foreigner Files website.